UNSTOPPABLE VAN GERWEN CLAIMS SECOND BETWAY PREMIER LEAGUE TITLE
MICHAEL VAN GERWEN won the Betway Premier League title for a second time on Thursday night with a glorious procession in the Play-Offs at The O2 in London, defeating great rival Phil Taylor in the final. The world number one, who previously claimed the trophy in 2013, picked up the £200,000 first prize in style as he firstly saw off Adrian Lewis 10-4 in the semi-finals before sweeping past Taylor in the decider. Van Gerwen, who also pockets a £25,000 bonus for topping the league table during the 16-game regular season, was at his brilliant best in the final as he took five straight legs to move from 2-1 down to lead 6-2, before a showpiece 100 finish which featured two double tops stopped Taylor's fightback stone dead.That checkout sparked another five-leg burst which saw the Dutchman take the title and reclaim one of the sport's most coveted trophies."It's been an amazing season for me and I'm so proud to win this title again,"said van Gerwen. "Behind the World Championship, this is probably the biggest tournament and it was one of my goals this year to win this trophy.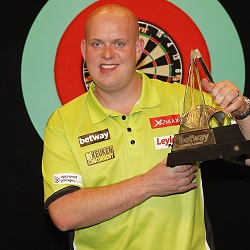 "It's extra special for me after losing in the final for the last two years. I could have won those games but I let myself down and I can't ask for anything more than this because to beat Phil is a pleasure in itself as he's the greatest player who's ever lived."I was really solid tonight and I didn't make many mistakes. I did the right thing at the right moments and I'm really glad with this result."It's not all about tonight, but about the last 16 weeks. You put so much effort in and try to do well and it's paid out by winning this trophy." Taylor had ended Gary Anderson's title defence with a 10-7 victory in their semi-final, with the Scot hitting back from 8-4 down at one stage to trail by just one leg before Taylor took out a key 79 before sealing victory.However, the Stoke legend's bid to win a seventh Premier League title was ended as he lost out again to van Gerwen in the decider, as he had in 2013."I'm very proud to have got through to the final," said Taylor, whose last Premier League win came in 2012. "Michael beat me up, put me under pressure and made me miss doubles.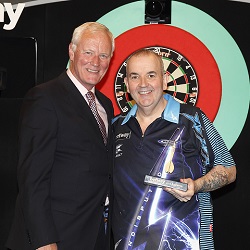 "He's doing phenomenal things and I did my best, but I just couldn't react against him. His scoring is good but his finishing is phenomenal and that's where he hurts you." Lewis had landed a nine-dart finish during the league season in Belfast, but saw his bid to claim the Premier League title for a first time derailed by van Gerwen in the last four."It was one of those nights for me,"said Lewis. "I felt like I threw good darts but they were landing just on the wrong sides of the wires, but Michael was the better man and deserved to win."I'm proud to have reached the Play-Offs in such a competitive field, but I know I've got more to give in the coming months and I'll get back on the practice board." World Champion Anderson was aiming to win his third Premier League title, and admitted: "It's really disappointing for me. I missed too many doubles and then when I got back at Phil I just couldn't get level, but I'll be back."After the start I had to the season I did well just to get to the Play-Offs, but when you're here you want to win it and I've not done that tonight." Betway Premier League Play-Offs Thursday May 19The O2, LondonSemi-Finals Michael van Gerwen 10-4 Adrian LewisPhil Taylor 10-7 Gary AndersonBest of 19 legs Final Michael van Gerwen 11-3 Phil TaylorBest of 21 legs